Blog
Posted May 15, 2013 | By Lydia Chiu, Partner | Filed under: Announcements
---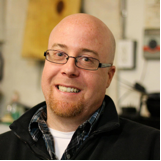 Kenneth King
Creative Director
Kenneth has been designing and building web solutions since 1999. He worked for a Fortune 200 company for the last 13 years, where he supported several internal marketing teams on Web-based initiatives. Eager for a new challenge and an opportunity to further develop his skills, Kenneth decided to leave the corporate world and focus his energy on creating Web solutions for a more diverse client base.
Born and raised in Southern California, Kenneth is married with two small children (Elijah and Olivia). When he's not designing and developing web solutions, Kenneth enjoys spending time with friends and family, which usually consists of everyone getting together for a dinner feast.
Work Experience:
As the Lead Web Designer/Developer at Sybron Dental Specialties, a Danaher subsidiary, Kenneth served as a technical resource to the business for design, development, and deployment of customer-facing Web sites and Web-related content. Kenneth worked with internal clients to define needs and develop solutions to satisfy business goals. Responsible for all aspects of development, including: creation of the site concepts, wireframes, user interface design, and information architecture.
With a vast understanding of both business process and Web technologies Kenneth, strives to implement value-add solutions to our clients. We are excited to bring him aboard.
Please welcome Kenneth to our team!