Blog
Posted May 04, 2014 | By Lee Pooler, Partner | Filed under: Announcements
---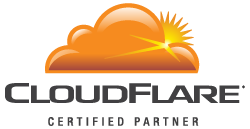 Jub Jub is pleased to announce a new partnership with CloudFlare, a content delivery network that improves the speed and security of your website. As a CloudFlare Certified Partner, we're able to load your site twice as fast and protect it from a range of online threats.
But it gets better -- we are offering the basic CloudFlare service for FREE! Paid plans are available for sites needing advanced features, like SSL. Regardless of your plan, there's no commitment and turning CloudFlare on takes only a couple (OK, maybe three) mouse clicks.
Getting started is easy -- simply log into our client portal, select View Available Addons from the Services menu, and click Order Now next to CloudFlare CDN. We'll take care of the rest!
To learn more about CloudFlare visit their web site or view their introductory video, or contact us if you have any questions.
We work hard to improve the hosting services we provide to our clients. This is why we're delighted to offer this great service to make your website faster and safer.